Kommenden Samstag heißt es ein letztes Mal "get aboard the soul train" …
… bevor sich der Breakaway Northern Soul Allnighter in die Winterpause begibt. DONT! MISS! OUT!
Also, liebe Soulies, in die Tanzschuhe geschlüpft und in den Zug Richtung Prenzl' Berg gestiegen. Next stop: PhonoClub.
Unser bezauberndes DJ-Trio, bestehend aus DJ Magic Shoemaker, Dirty DJane und Austin Martin, hat sich dieses Mal Mr. Groove, seines Zeichens Veranstalter der legendären Uptight-Allnighter in Frankfurt, als Gast eingeladen. Wenn das mal nicht die Herzen aller Soulfanboys und -girls höher schlagen lässt vor freudiger Erwartung …
Hier die Eckdaten:
Breakaway Northern Soul Allnighter Berlin
26.10.2019 | PhonoClub | 10 p.m.
Bis Februar nächsten Jahres heißt es dann "uptight, out of sight". Aber verzagt nicht, sondern haltet Euch folgende Termin in 2020 frei: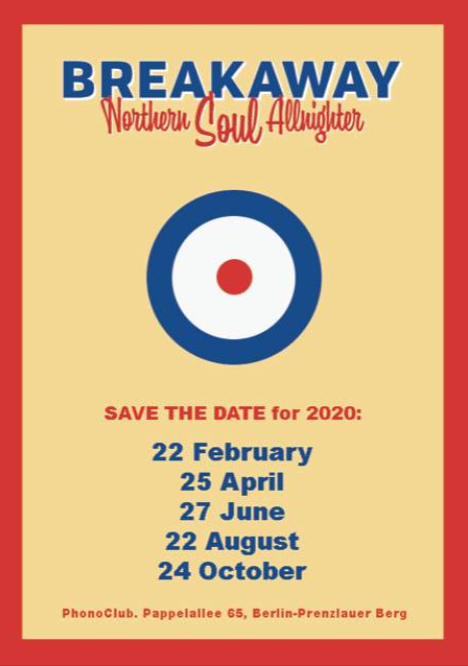 Wir empfehlen: Als Poster ausdrucken und an die Bürowand hängen. Hilft garantiert gegen winterliche Verstimmungen und zaubert ein Lächeln auf die Lippen.